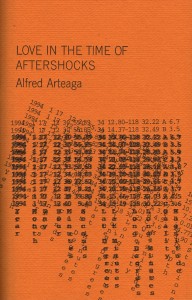 Prose poem by Alfred Arteaga
Photo by Harry Gamboa, Jr.
Co-published with Chusma House Publicaions
ISBN 1-891823-00-0
5 1/2″ x 8 1/2″
40 pages
$5
ABOUT THE BOOK
Love in the Time of Aftershocks was written in Los Angeles in the time after the 6.7 of January 17, 1994. The chapbook was designed and printed by Felicia Rice of Moving Parts Press, and co-published by Chusma House Publications and Moving Parts Press on the occasion of "Celebration and Protest," a gathering of poets at La Peña, Berkeley, in support of the author's law suit against the University of California for denial of tenure, February 12,1998.
ABOUT THE POET
Alfred Arteaga is the author of three books, Cantos (Chusma House, 1991), House with the Blue Bed (Mercury House, 1997), Chicano Poetics (Cambridge UP, 1997) and is the editor of An Other Tongue (Duke UP, 1994). He has received fellowships from the National Endowment for the Arts and the Rockefeller Foundation.
ABOUT THE PHOTOGRAPHER
Harry Gamboa Jr. is a photographer, author, and founding member of Asco, the performance art group.
From the LITERATURA CHICANA/LATINA SERIES Chapbooks
This series documents Chicano/Latino cultural events and readings in the form of inexpensive books which can be readily produced as needed using laser and letterpress printing.