artist : editor : publisher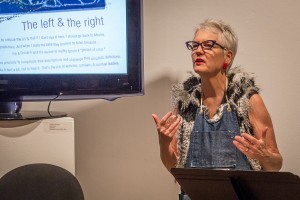 10699 Empire Grade
Santa Cruz, CA 95060
ph : 831 427-2271
fx : 831 458-2810
frice@movingpartspress.com
movingpartspress.com

docundoc.com
Felicia Rice collaborates with visual artists, performing artists and writers to create book structures in which word and image meet and merge. She employs traditional typography and bookmaking methods in conjunction with digital technology, bringing the flexibility of screen-based design to the texture and history of the letterpress-printed page.
Felicia's work is driven by the text. The word informs each decision she makes throughout the printing process, an outgrowth of four decades of letterpress printing and countless hours spent hand setting lead type letter-by-letter. As a relief printmaker, she layers digitally manipulated type over images drawn from her sketchbooks and rubbings from familiar surfaces.
Work from the Press has been included in exhibitions and collections both nationally and internationally, from AIGA Annual Book Shows in New York and Frankfurt to the Victoria & Albert Museum. Moving Parts Press has been the recipient of numerous awards and grants including The Rydell Visual Arts Fellowship, Elliston Book Award, Stiftung Buchkunst Schönste Bücher aus aller Welt Ehrendiplom, and grants from the NEA, CAC and the French Ministry of Culture.
Felicia explores the book as performance art in her spoken word performance practice. In 2014 Felicia Rice published the artists' book, DOC/UNDOC, a seven-year collaboration with four others: Guillermo Gómez-Peña, Gustavo Vazquez, Jennifer Gonzalez and Zachary Watkins. Through the process of developing this transmedia project, Felicia experienced a profound transformation that led to her work as a performance artist.