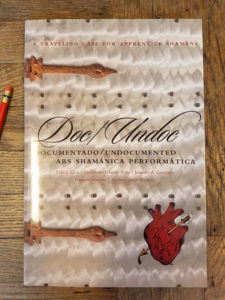 Celebrating the publication by City Lights Books with Moving Parts Press of
DOC/UNDOC Documentado/Undocumented Ars Shamánica Performática
Book launch and exhibition
February 1, 2018 (7–9)
Canessa Gallery, 708 Montgomery St., San Francisco, CA
Book talk
February 20, 2018 (7:00)
Bookshop Santa Cruz, 1520 Pacific Ave., Santa Cruz, CA
More information and book price here.
"ReOpening The Book"
February 3–April 29, 2018
Elverhøj Museum, Solvang, CA
Opening: February 3 (4:30–6 pm)
"Spoken/Unspoken: Unfinished Business"
January 7–April 7, 2018
Santa Cruz Public Library, Santa Cruz, CA
Opening: February 2 (6–8 pm)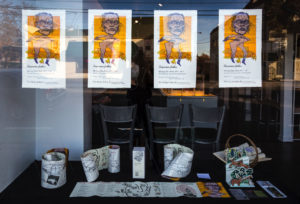 Perseverance furthers: Moving Parts Press 1977–2017
Felicia Rice celebrates 40 years of books, broadsides, and prints
December 1–31, 2017
Friday–Sunday 12–5 pm
Opening reception: First Friday, December 1, 2017 5–9pm
Felix Kulpa II
209 Laurel St.
Santa Cruz, CA 95060
In 1977 Felicia Rice set Moving Parts Press in motion. A letterpress printshop in downtown Santa Cruz, Moving Parts Press welcomed all kinds of print work, from business cards to book design. Then in 1981 Felicia published her first book, For Earthly Survival, by Santa Cruz poet Ellen Bass, the first of a series of handcrafted editions.
From the beginning the mission of the press was to give voice to those who would not otherwise be heard. For 40 years Felicia has collaborated with visual artists, performing artists, and writers to create book structures in which powerful language and striking images meet and merge.
Rice combines 19th-century bookmaking techniques with 21st-century digital technology to bring the flexibility of screen-based design to the texture and history of the letterpress-printed page. This exhibition includes books, broadsides, and prints from each of the periods that distinguish the 40-year history of Moving Parts Press.
Come celebrate a retrospective of 40 years of exploration of type, prints, books, and community!
"Guillermo Gómez-Peña: Mexican (IN)documentado"
Museo de Arte Moderno, México DF
November 29, 2017–April 22, 2018
Opening: November 29
"Felicia Rice: Collaboration and Metamorphosis"
The Center for Book Arts, New York
October 6–December 16, 2017
Opening: October 6
Performance: October 13
"Santa Cruz Printers' Chappel: Celebrating 35 Years: Broadsides, Prints & Books"
Porter Faculty Gallery, UC Santa Cruz, CA
October 5–December 2, 2017
Opening: October 5
"Chamber of Heart and Mystery"
The Museum of Art & History @ McPherson Center, Santa Cruz, CA
September 2017–September 2018
"ResistFest"
The Museum of Art & History @ McPherson Center, Santa Cruz, CA
September 23, 2017
"BORDERBUS: work-in-progress"
Doheny Memorial Library, Special Collections, Room 206
University of Southern California, Los Angeles
September 1–30, 2017