Felicia Rice celebrates 40 years of books, broadsides, and prints
December 1–31, 2017
Friday–Sunday 12–5 pm
Opening reception: First Friday, December 1, 2017 5–9pm
Felix Kulpa II
209 Laurel St.
Santa Cruz, CA 95060
In 1977 Felicia Rice set Moving Parts Press in motion. A letterpress printshop in downtown Santa Cruz, Moving Parts Press welcomed all kinds of print work, from business cards to book design. Then in 1981 Felicia published her first book, For Earthly Survival, by Santa Cruz poet Ellen Bass, the first of a series of handcrafted editions.
From the beginning the mission of the press was to give voice to those who would not otherwise be heard. For 40 years Felicia has collaborated with visual artists, performing artists, and writers to create book structures in which powerful language and striking images meet and merge.
Rice combines 19th-century bookmaking techniques with 21st-century digital technology to bring the flexibility of screen-based design to the texture and history of the letterpress-printed page. This exhibition includes books, broadsides, and prints from each of the periods that distinguish the 40-year history of Moving Parts Press.
Come celebrate a retrospective of 40 years of exploration of type, prints, books, and community!
Al Mutanabbi Street Starts Here!
The 2016 article by Cathy deForest that features the print, Absence And Presence, by Felicia Rice.

Documentado/Undocumented Ars Shamánica Performática
VIDEO
Guillermo Gómez-Peña and Gustavo Vazquez
SOUND
Zachary Watkins
COMMENTARY
Jennifer González
PRINTS AND BOOKWORK
Felicia Rice
In this sequel to Moving Parts Press's 1998 publication, CODEX ESPANGLIENSIS, Felicia collaborates once more with performance artist/writer Guillermo Gómez-Peña and art historian/critic Jennifer González, as well as video artist Gustavo Vazquez and sound artist/engineer Zachary Watkins.
DOC/UNDOC features Gómez-Peña's performance texts and Felicia's relief prints and typography, accompanied by González's critical commentary. It is housed in a hi-tech aluminum case containing a DVD, an altar, and a cabinet of curiosities. Opening the case triggers light and Watkins's interactive sound art.

An excerpt from FIVE HYMNS TO PAIN
TEXT
Nazik al-Malaika
TRANSLATION
Hasain Haddawy
PRINT AND BOOKWORK
Felicia Rice
Dedicated to the literary and intellectual community of al-Mutanabbi Street, an old and established center for booksellling in the heart of Baghdad, this book was produced for the Al-Mutanabbi Street Project. The poem was written by one of the most influential contemporary female Iraqi poets.

EL ALFABETO ANIMADO / The Lively Alphabet / Uywakunawan Qelqasqat
TEXT
Monica Brown
TRANSLATION 
Jenny Callañaupa Huarhua
DRAWINGS AND BOOKWORK
Felicia Rice
INSPIRATION
Katie Jennings
This project grew out of a dream. The fourth book in the Chicano/Latino Series, it is an alphabet book in Spanish, English and Quechua. The book is populated by hand-knit finger puppets set in scenes drawn and printed at Moving Parts Press on a rainbow of cloth from Cuzco, Peru.

COSMOGONIE INTIME An Intimate Cosmogony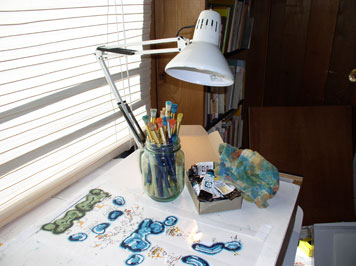 TEXT
Yves Peyré
TRANSLATION
Elizabeth R. Jackson
DRAWINGS
Ray Rice
BOOKWORK
Felicia Rice
A sequence of five long poems in French and English with pochoir imagery throughout.

CODEX ESPANGLIENSIS from Columbus to the Border Patrol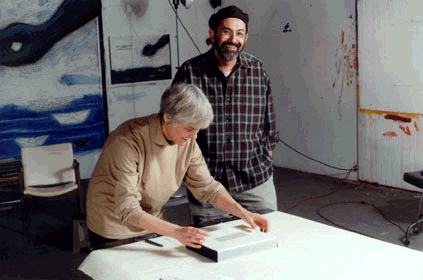 TEXT
Guillermo Gómez-Peña
IMAGERY
Enrique Chagoya
BOOKWORK
Felicia Rice
This artists' book chronicles and confronts  the realities and surrealities of border culture on the eve of the millennium.