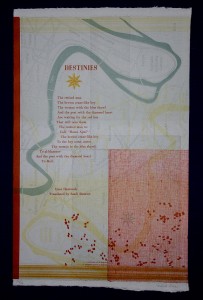 Poem by Gzar Hantoosh
Translation by Saadi Simawe
Print by Felicia Rice
12″ x 19″
Printed on Hosho paper
Contribution to Mutanabbi Street Starts Here broadside series
ABOUT THE SERIES
Mutanabbi Street is the centuries-old center of bookselling in Baghdad, a winding street filled with bookstores and outdoor book stalls. Named after the famed 10th Century classical Arab poet, Al- Mutanabbi, this street has been, since time immemorial, the historic heart and soul of the Baghdad literary and intellectual community. On March 5, 2007, a car bomb was detonated on Mutanabbi Street. At least thirty people were killed and one hundred wounded.
The Mutanabbi Street Coalition was formed soon afterwards to commemorate not just the tragic loss of life, but also the idea of a targeted attack on a street where ideas have always been exchanged. The coalition, headed by San Francisco poet and bookseller Beau Beausoleil and printer and professor Kathleen Walkup, is made up of over forty letterpress printers who have gathered to respond to the tragedy with positive creativity: by printing the work of Iraqi poets in broadside form and supporting Doctors Without Borders––a non-profit agency working to relieve suffering in Iraq and in other troubled areas of the world––through the sales of these broadsides.
ARTIST'S STATEMENT
This project immediately attracted me. The opportunity to make some small difference in the lives of those most affected by this horrific war spoke directly to the mission of my press, where the political and personal meet and mingle in book form. I called my friend, Sam Amico, who owns a Sufi bookstore, and he loaned me a stack of books about the world of Arabic literature and Iraqi poetry. I delved into research on the net to learn about Mutannabi Street, its rich history and significance to the entire Arab world, the March bombing, and the state of the city at the present. I have a small travel book on Iraq first published in 2000; so much has been lost since. It was the source of the map that gives a fighter jet view of the city and shows the streets mentioned in the poem.
I intended to make a dirtier, grittier and bloodier print, the view from the ground but somehow it came out quite beautiful from the air. For all my research and the non-stop coverage broadcast on the radio as I worked in the shop for a week solid, I still perceive the veil between my view of the war and that of the poet riding the red bus in the poem. Do boy scout centers still exist in Baghdad? Do women shop on Mansour Street? The poem thrusts us into that most frightening place and the broadside goes as far as I was able venture toward Hell.