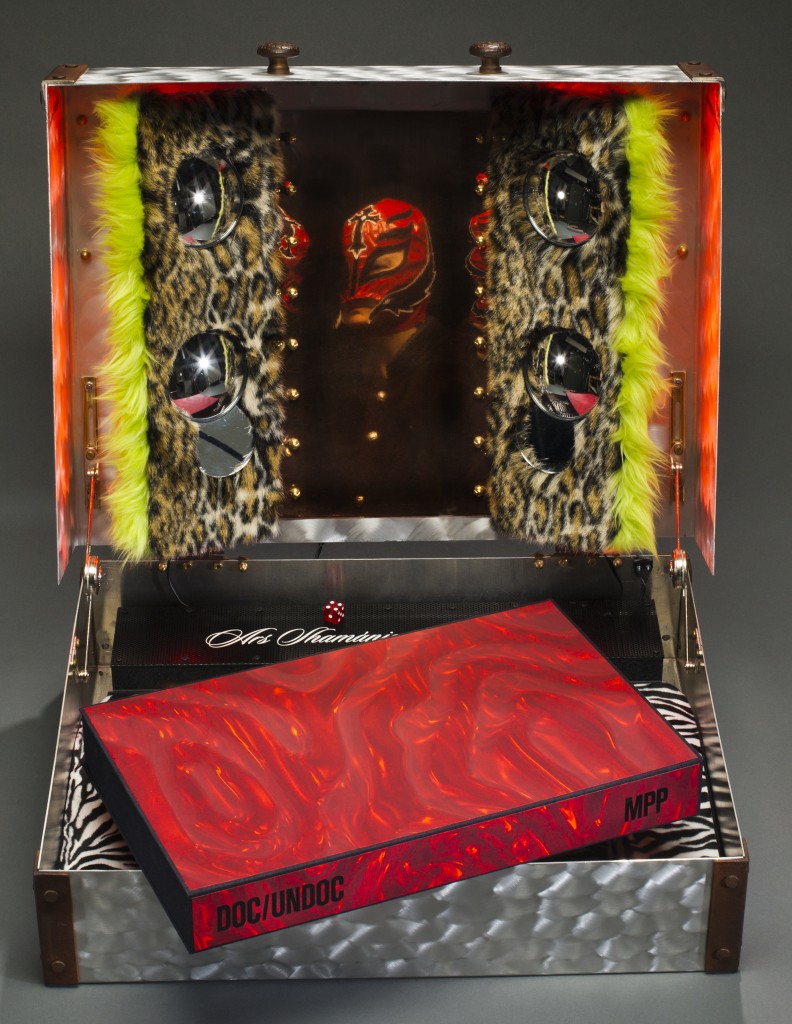 Web site: DOC/UNDOC Documentado/Undocumented Ars Shamánica Performática
A traveling case for apprentice shamans
A reliquary for imaginary saints
A toolbox for self-transformation
A quiet call to heal yourself with fetishes and antidotes
A border kit to face the uncertainty of future crossings
A new project, seven years in the making
A mixed-media production housed in a hi-tech aluminum case, which contains Felicia Rice's artists' book with performance texts by artist/writer Guillermo Gómez-Peña and critical commentary by art historian Jennifer González; video by artist Gustavo Vazquez; and sound art by Zachary Watkins.
The object itself carries within a crisis of identity: What is it exactly? A stage for an intimate one-on-one performance? An unusual video screening room? A personal multi-media altar? A "vanity" used for preparing for a performance? It is all these things and it is also an original book, a performative artists' book in search of a new format and a new audience. Each element stands by itself, but together they form an indescribable whole.
The deluxe edition of 15 includes the artists' book in the aluminum case. In addition, 35 stand-alone artists' books are also available. More on specifications and purchase information.
Interested in purchasing or reviewing the work? Would you like to mount an exhibition with accompanying performances? Please contact Felicia Rice at frice@movingpartspress.com.

Quotes from the artists about this piece:
"How do we create a more intimate, performative and ritualized experience for the viewer/participant in this unique book object? Its interactive dimension may be its main contribution to the field of experimental book art or rather "performative book art."
—Guillermo Gómez-Peña
"The book invites us to consider an ongoing tension as we navigate a world of politics and appearance, racism and immigration, self and other."
—Jennifer González
"You have to see it live."
—Felicia Rice
From the LITERATURA CHICANA/LATINA SERIES Artists' Books
This series explores the intersection of cultures, disciplines and book structures. This series of contemporary Chicano/Latino artists and writers in translation is issued in both limited and trade editions. Each book is the result of a close collaboration between writer, artist and book artist, Felicia Rice.