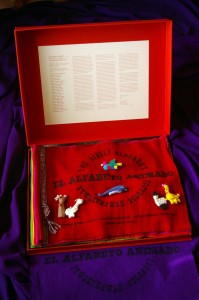 Text by Monica Brown
Translation into Quechua by Jenny Callañaupa Huarhua
Book design and inspiration by Katie Jennings
Drawings and bookwork by Felicia Rice
View the book
View the animalitos
View the process
Limited edition of 8
19.75″ x 25.5″
15 pages
out-of-print
ABOUT THE BOOK
A trilingual alphabet book in Spanish, English, and Quechua, a Native American language of South America. The book is populated by hand-knit finger puppets set in scenes drawn and printed at Moving Parts Press on a rainbow of cloth from Cuzco.
ARTIST'S STATEMENT
Some years ago I had a vivid dream of a fabric book populated by finger puppets from Latin America set in scenes printed in black. When children's book designer Katie Jennings contacted me about her deep appreciation of my earlier collaborative work with Enrique Chagoya and Guillermo Gómez-Peña, CODEX ESPANGLIENSIS, I invited her for a visit. It was during this exciting exchange of ideas about books, typography and technology, letterpress printing, poetry and politics that I introduced Katie to my "dream book." I had already begun collecting finger puppets through friends and friends of friends traveling in the Andes. Katie encouraged me to bring this book to life.
Katie talked about her experiences as a children's book designer and the world of children's book publication. As a maker of limited edition artists' books I make an effort to bring my creations to a larger audience as trade editions widely available through booksellers everywhere. Katie suggested that Peruvian-American author Monica Brown might be interested in collaborating on a very limited edition of artists' books that would be translated into a trade edition. Moving Parts Press specializes in multilingual editions, exploring the relationship of text and image, fine art and politics, the individual and the universal. Monica Brown is widely known and highly respected for her wonderful bilingual, Spanish and English, children's books. I decided to approach Monica about our potential project. She was immediately drawn to the project by the Peruvian finger puppets. Her mestiza mother was born in Piura, Peru and came to the United States at seventeen. To my delight Monica responded quickly and positively to my proposal.
The three of us first met in spring 2006 when Monica was visiting the San Francisco Bay Area and Katie was living in San Francisco. We all agreed on my developing the artists' book using my own drawings and Monica's text with Katie designing the trade edition to shop to publishers. Monica considered several approaches to the story and finally decided on an alphabet book. We hoped Monica's editors would be excited about the trade edition and agreed we would seek to distribute books gratis to literacy programs in Peru.
Peru became the main source of the puppets and I have many travelers to thank for my acquisition of the animalitos that inhabit the book, most notably Aaron Johnson and Anne Cappiello. Even Monica enjoyed handpicking a selection during her 2007 trip to Lima to visit family. Peru also became the source of the fabric on which the book is printed. This serendipitous turn was born of a meeting with Tim Wells and Jenny Callañaupa Huarhua. I was searching for the fabric of my dream book, a pillow size, soft and lumpy book with open weave fabric pages in deep maroon. Tim works with Jenny in Cusco at the Centro de Textiles Tradicionales del Cusco where Jenny coordinates a program supporting indigenous weavers in the preservation of their traditional craft. I had been calling textile artists up and down the California coast and a very generous Santa Cruz weaver had even made a sampler for me of her interpretation of my descriptions of the cloth. When I met with Tim and Jenny in Santa Cruz in 2006, Jenny was in the United States at the invitation of the Smithsonian Institute, traveling throughout the country teaching native dying techniques. Tim brought samples of cloth, bayeta, commonly found in the market in Cusco. It was exactly what I was seeking and, after experimenting with inks and bayeta, I approached Tim and Jenny about purchasing enough cloth in a rainbow of sixteen colors for an edition of eight books. When the package arrived from Cusco, Katie brought it from San Francisco to Santa Cruz. It was a huge bundle and Katie fairly disappeared behind it, staggering under its weight.
Through Jenny I was also able to commission the weaving of the belts, huatanas, which encircle each of the books, and the purchase and shipping of even more rabbit, monkey and llama puppets. But Jenny's greatest contribution to the book was its translation into Quechua. She writes, "The knowledge that this animated alphabet presents not only Spanish words but also South America materials and feelings excites me; it was here that the exchange of ideas began to translate not only into Spanish but also into Quechua, a commitment that I have undertaken with great pleasure." It is important to note that not every word is translatable into Quechua or even Spanish. Jenny consulted with some of her weaver friends in Accha Alta, Chahuaytire and Chumbivilcas who agreed that many Quechuan terms are heavily influenced by Spanish and these she chose not to translate.
Over the course of the next year I developed drawings for each letter.The wooden type on each page was a generous loan from Gary Young. With the help of my apprentices, Asher Craw, Ruby Kapka, and Alida Lindsley, the cloth was cut into pages and printed from photoengravings. I have Krista Delosreyes to thank for the loving treatment of each puppet. The binding is the result of the careful work of Peter Burnes, Maureen Carey, and Susan Else.
In Jenny's words, "Thank you very much for giving me the opportunity to become a part of this wonderful work; for me it is an honor to contribute to this as it demonstrates once again that when you have the desire to do something, your friends and colleagues will respond to your call and what might have been an overwhelming undertaking yields gratifying results."
Felicia Rice
From the LITERATURA CHICANA/LATINA SERIES Artists' Books
This series explores the intersection of cultures, disciplines and book structures. This series of contemporary Chicano/Latino artists and writers in translation is issued in both limited and trade editions. Each book is the result of a close collaboration between writer, artist and book artist, Felicia Rice.