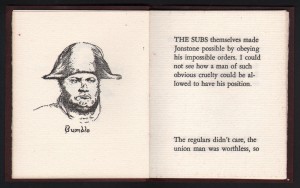 Excerpt from POST OFFICE by Charles Bukowski
Size: 2.75″ x 3.25″
Second printing: $50
ABOUT THE BOOK
"I printed the book to give out to all my fellow carriers as I was leaving the post office where I'd been working for six months. The post master was celebrated for his irrational and cruel abuse of authority. I can still go in to that office and mention his name to the clerks at the counter, or to a carrier on the street, and they know exactly who Polzine is and his reputation. I believe he went on to head up one of those post offices where one of first the shootings took place. I have always understood "going postal." Any organization which requires employees to wear uniforms is a paramilitary organization, and the post office is populated by vets whose consciousness and understanding of power was established during the Vietnam War. It can be a dangerous place. Trained from the age of 5 to view the "Mail Man" as a friendly and helpful, most patrons fail to recognize a hostile carrier. I know, I tried to share my bad attitude and received high fives and smiles all along my route.
It is not a miniature book (which are ludicrous), but a "palm book." In the early years of the Labor Movement in this country, workers needed to pass information secretly, so small books were made to pass from hand to hand out of sight of the bosses. We were watched constantly in the P.O. and this violation of privacy immediately set up an us-them dynamic in which workers were there to rip off the bosses by stealing and cheating. What else do workers do?"
Felicia Rice

EDITIONS
First printing: "I have a list of numbers up to 40 with names of who got what copy. There are numbers without names and a few names without numbers and scribbled addition equaling 63 on the back. Betcha there were 63 of this, with 40 numbered copies. Apparently I didn't maintain the record after a certain point." FR
Second printing: 50
TYPE
Printed by Felicia Rice on a Vandercook proof press in Intertype Times Roman and handset Franklin Gothic.
IMAGES
Drawings from Mendocino Beacon newspaper for a local production of "Oliver," acquired with 1906 Colts Armory letterpress in 1978.
PAGES
First printing: 12 unpaginated leaves
Second printing: 14 unpaginated leaves
PAPER
First printing: Printed in black on handmade white German Hayle paper, offcuts from Wm. Everson's 'fine book' "Granite & Cypress" by Robinson Jeffers. Former apprentices did various things with the offcuts of that gorgeous sheet.
Second printing: Printed in black on off-white Lana Laid paper, offcuts from the Moving Parts Press project at the time, "Blue Hooks in Weather" by Christopher Buckley.
BINDING
First printing: Hand sewn with white thread and wrapped in blue and black mottled paper (a cheap sheet I had picked up in Holland, like an old-fashioned blank journal cover) by Feliciia Rice. Label attached to the front cover. Second printing: Hand sewn with white thread and wrapped in varnished Moriki burgundy paper by Felicia Rice. Label attached to the front cover.
COLOPHON
First printing: "Mutant Drone Press | April Nineteen Eight-two"
Second printing: "Mutant Drone Press | First printing: April Eighty-two | Second printing: June Eighty-four"
PUBLISHER
Mutant Drone Press, the one-and-only wholly-owned subsidiary of Moving Parts Press