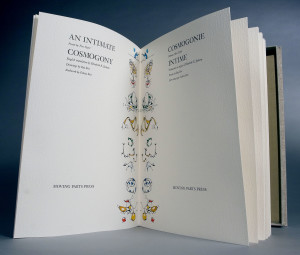 POEMS
Yves Peyré
TRANSLATION
Elizabeth R. Jackson
DRAWINGS
Ray Rice
BOOKWORK
Felicia Rice
CRITICAL COMMENTARY
Rosemary Lloyd

French poet Yves Peyré has composed five poems, a sequence that carries the poet himself and his generation through time and space, touching base regularly to evoke a familiar name, a place, a far-gone era. These poems are at once intimate and universal, offering readers insight, revelation and passage on a poetic journey that illuminates our common ground. The pen-and-ink drawings by Ray Rice are enriched with multiple colors using the pochoir or stenciling process. The deluxe edition is hand-painted in watercolor throughout by the artist.
STRUCTURE
This 10 x 15 inch accordion-fold book extends to 18 feet. The binding adheres to the model of the livre d'artiste; the book block rests in a printed paper cover wrapped in glassine. It is housed in a paper slipcase and a cloth-covered box. On eighteen of the twenty sheets that make up the book, long narrow text and drawings mirror one another, the verso English, the recto French, the drawings running to either side of the gutter. View the artist's process
POEMS
Read the first poem: English or français
EDITION
Bilingual French/English
84 copies
12 deluxe
71 available for purchase
PRICE
$2400
$4800 deluxe
from the LIVRES D'ARTISTE SERIES
Among the crowning achievements of the twentieth-century book are the French livres-d'artiste, specially produced limited editions integrating the visual and poetic text. This series of publications interprets the original French livres d'artiste for contemporary audiences.