Ray Rice spent over 50 years on the modern American art scene as a painter, mosaicist and animator of experimental films. His list of awards, exhibitions and commissions in the Bay Area extends back to the early 1950s. This is his third collaboration with his daughter, Felicia Rice, of Moving Parts Press. He died in 2001 at the age of 85.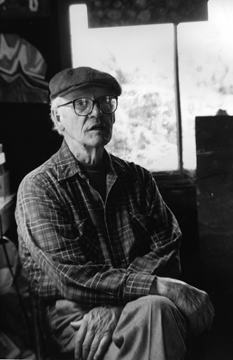 Ray Rice (1916–2001) was a modern Renaissance man: a painter, sculptor, mosaicist, printmaker, filmmaker, musician, writer, poet and teacher. His work has been exhibited all over the world, including the California Palace of the Legion of Honor in San Francisco and the Philbrook Museum of Art in Tulsa, Oklahoma. He received his education at the Chicago Art Institute, the Art Students League of New York and the New School for Social Research in New York. In the 1950s and 1960s, he and other artists, sculptors and architects formed the "Art and Architecture" movement, which integrated sculpture, mosaic and painting with architecture. But it was in film that Mr. Rice could combine all his talents as an artist, poet and musician. From 1965 to 1985 he produced more than forty short films. The films won a number of awards and have been shown at such venues as UC Berkeley and the Whitney Museum in New York.
— Stacy Finz, San Francisco Chronicle

View Ray's "strip" paintings and original drawings for COSMOGONIE INTIME An Intimate Cosmogony, along with the process of making the book.

Return to COSMOGONIE INTIME An Intimate Cosmogony