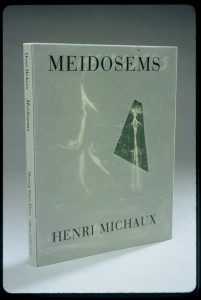 Poems and lithographs by Henri Michaux
Translation by Elizabeth R. Jackson
Trade edition
7″ x 9″ 184 pages
ISBN 0-939952-13-0
$24.95 out-of-print
This is just the way such books should be done…
—Mary Ann Caws, Distinguished Professor of English, French and Comparative Literature, Graduate School, City University of New York
Few French poets have been served as well by a translator/editor/book designer as is Henri Michaux in Elizabeth Jackson's truly beautiful edition of the poet's 1948 livre d'artiste, MEIDOSEMS.
—Marjorie Perloff, Professor of English and Comparative Literature, Stanford University
ABOUT THE BOOK
MEIDOSEMS is the story of an imaginary race, strange creatures, ectoplasmic in form, fragile yet resourceful. Michaux tells with sympathetic humor of their land, their customs, their irresistible penchant for metamorphosis. Yearning for peace, delight and freedom, they are prone to anxiety and subject to manifold existential threats. Following adventures, misadventures and unlikely dilemmas, they finally achieve their hearts' desire: flight towards an empyrean haven. In MEIDOSEMS Michaux created text and image spontaneously, with thirteen quick, inky lithographs integral to his prose poem. This new edition replicates the original 1948 French livre d'artiste published by his associate and friend, René Bertelé. It also includes five previously unknown preliminary litho designs; a scholarly bibliography of Michaux's many publications which integrate text and image; an original poem by contemporary French poet, Yves Peyré; and a preface by translator, E. R. Jackson. In this new edition MEIDOSEMS reaches out at last to the English-speaking world and we find we share Michaux's postmodern sense of distress and delight.
ABOUT THE AUTHOR
Belgian by birth and French by choice, Henri Michaux was a true voyager in the realm of twentieth century expression. A contemporary of the Surrealists, he searched independently for a way to enter alternate worlds, both as a poet and as an artist. Born in 1899, at twenty-one he embarked as a sailor on a cargo ship, the beginning of a lifelong passion for travel. Returning to Paris, he started exploring his own identity in poetic projections such as Who I Was and Pen. In the 1930s and 40s he invented a mode of imaginary and real travel narratives. In the 1950s Michaux experimented with psychoactive drugs, resulting in works such as Turbulent Infinity. His genius as a writer was matched by his fervent and fanciful work as an artist. He died peacefully at his easel in 1984, brush close at hand. He was recognized in France throughout his lifetime as a creator, true to himself. His postmodern vision, MEIDOSEMS, joins a small number of illustrated texts by celebrated author/artists and ranks with Kandinsky's Klang and Matisse's Jazz.
ABOUT THE TRANSLATOR
Elizabeth R. Jackson, Professor Emerita from San Diego State University, brings fresh perspective to this first English translation of MEIDOSEMS. She has published extensively works on French poetry and the French modern novel. Among these is a translation of selected texts by the Surrealist poet, Benjamin Péret, A Marvelous World. For this English edition of MEIDOSEMS, the French Minister of Culture generously awarded a Translation Subsidy.

From the LIVRES D'ARTISTE SERIES
Among the crowning achievements of the twentieth-century book are the French livres-d'artiste, specially produced limited editions integrating the visual and poetic text. This series of publications interprets the original French livres d'artiste for contemporary audiences.