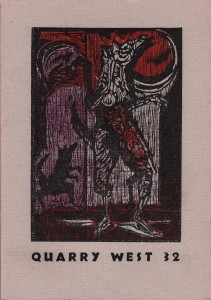 The Poet as Printer:
William Everson & the Fine Press Artists' Book
Edited by Felicia Rice
This book documents William Everson's work with tributes, interviews, feature articles and poems by over 25 friends, colleagues and Everson scholars. It is illustrated with Everson broadsides, books and photo portraits dating from early and late phases of his career as poet and printer.
Essays, artists' statements and reproductions from the 1995-98 traveling exhibition: "Dressing the Text: The Fine Press Artists' Book" attempt to define the fine press artists' book as a contemporary genre within the field of bookmaking.
ISSN 0736-4628
7 " x 10″
122 pages
out-of-print