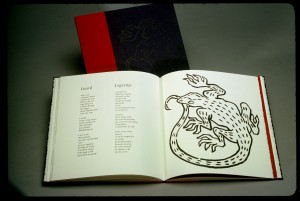 Poems by Elba Rosario Sánchez
Drawings by Robert Chiarito
Bilingual edition: Spanish and English
Trade edition
8″ x 9″
44 pages
ISBN 0-939952-12-2 $12
Limited editon of 75
11 1/2″ x 12 1/4″
44 pages
Cloth with paper over boards
ISBN 0-939952-11-4 $1000
ABOUT THE BOOK
Published by Moving Parts Press in association with the University of California at Santa Cruz, TALLOS DE LUNA / MOON SHOOTS is Elba Rosario Sánchez's first collection of poetry. Noted poet Francisco X. Alarcón says of Sánchez's new book, "These poems, originally composed in both Spanish and English, have the stark immediacy of testimonies, from the father who witnesses a fellow Black steelworker slip and disappear into a smoldering furnace of liquid iron in Chicago, to the mother anxiously waiting for the mailman's next delivery in Mexico. By conjuring up the past, the poet turns into a healer offering words as her medicine."
ABOUT THE AUTHOR
Elba Rosario Sánchez is a Chicana poet whose bicultural experience is at the core of her poetry. She was born in Guadalajara, Mexico and grew up in San Francisco's Mission District. Since 1980 she has worked as an educator and activist in the Santa Cruz Latino community. At the time of publication, she taught in the Spanish for Spanish Speakers Program at the University of California, Santa Cruz. Her work is included in the anthology, New Chicana/Chicano Writing, published in 1992 by the University of Arizona Press. She is also founding co-editor of Revista Mujeres, a bilingual publication for and by Chicanas and Latinas. Sánchez's contribution to the definition of the Chicana experience is essential. Her voice emerges from a strong and proud tradition into a thriving Latino literary community.
ABOUT THE ARTIST
Robert Chiarito has illustrated Elba's poems with a series of bold dry brush black ink drawings. He first collaborated with Elba in an earlier Moving Parts Press publication, Porter Broadside Series Two: Pairings. The conception and impetus for TALLOS DE LUNA / MOON SHOOTS grew from the success of this effort. An exhibit of his work will be mounted at the Museo ItaloAmericano in San Francisco in 1993. Robert Chiarito currently teaches painting and drawing at Santa Clara University and the University of California, Santa Cruz.
ABOUT THE PUBLICATION
Moving Parts Press has issued editions of new literature and contemporary art from its letterpress studio in Santa Cruz since 1977. In addition book artist Felicia Rice taught an annual typography and ne bookmaking course for the University of California, Santa Cruz between 1987–1998. In the spring of 1992 Felicia Rice led a group of UCSC students in printing and publishing TALLOS DE LUNA / MOON SHOOTS at Moving Parts Press.
AWARDS
TALLOS DE LUNA / MOON SHOOTS was selected from 538 submissions nationwide by the American Institute of Graphic Arts (AIGA) as one of "The Fifty Books of 1992" for excellence in book design. In addition, this publication was supported by the California Arts Council.
From the LITERATURA CHICANA/LATINA SERIES Artists' Books
This series explores the intersection of cultures, disciplines and book structures. This series of contemporary Chicano/Latino artists and writers in translation is issued in both limited and trade editions. Each book is the result of a close collaboration between writer, artist and book artist, Felicia Rice.