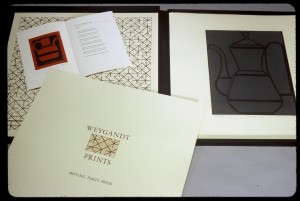 Prints by Donald Weygandt
Poems by Tim Fitzmaurice, Madeline Moore, Eliane C. Roe, David Swanger
Print portfolio : six prints, portfolio box and chapbook
$1,800
Chapbook of prints and poetry
Edition of 400
6 " x 9″ 16 pages
ISBN 0-939952-21-1
$25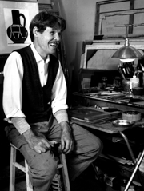 ABOUT THE ARTIST
Don Weygandt has achieved regional renown as both painter and printmaker. This recent work takes timeless everyday vessels such as pots, pitchers and vases as its subject. Colleague Douglas McClellan writes, "His touch is the touch of an angel but there is a mischief in it: a turn of a line, a slab of color, a push at an edge, an elusive asymmetry, any of these might connive the form to a surprising sense of delight….Each work has total authority and not a little magic." Weygandt was a member of the arts faculty at UCSC from 1967––1991.
ABOUT THE PRINT PORTFOLIO
WEYGANDT / PRINTS is a series of six prints by Donald Weygandt which are presented in a portfolio box and accompanied by a limited edition chapbook. In May 1991 twenty numbered portfolios were published in association with the University of California, Santa Cruz. Half of these have been placed in private and institutional collections, including the Houghton Library, Harvard University.
Print Series 1-6 were printed on Rives BFK Cream paper and trimmed to 18″ x 18″. Each print was issued in an edition of twenty signed and numbered copies with ten artist's proofs, two archival proofs, two studio proofs and twelve printer's proofs.
Series 1.
This original lithograph was printed in black and cream, from two stones, by Lara Noelle Norman and Ethan Bryson under the direction of Janice Bridgman and Paul Rangell at Baskin Art Studios, University of California, Santa Cruz.
Series 2, 3, 4, and 5. Four intaglio plates were made by the artist and printed in black by Laura Edeen and Stacy Opdyke under the direction of Darien Payne and Kathryn Metz at Baskin Art Studios, University of California, Santa Cruz; Series 2: engraving and drypoint; Series 3: sugarlift, aquatint, engraving and drypoint; Series 4: soft ground, hard ground, etching and engraving; Series 5: hard ground and etching.
Series 6.
A linoleum cut was printed in black and silver, from two blocks by Sabrina Hall and Elizabeth Wallen under the direction of Felicia Rice at Greenhouse Review Press, Santa Cruz.
ABOUT THE PORTFOLIO BOX
The portfolio box, covered with black Japanese book cloth shot with gold, is lined with a patterned paper designed by the artist. The boxes were made by Maureen Carey with Sabrina Hall, Felicia Rice and Elizabeth Wallen.
18″ x 18″ x 1″.
ABOUT THE CHAPBOOK
A chapbook, including three original prints and a statement from the artist, rests in a pocket inside the front cover of the portfolio. David Swanger, Tim Fitzmaurice, Eliane Corbeil Roe and Madeline Moore contributed poems inspired by Weygandt's prints to this aspect of the publication. The chapbook was designed by Felicia Rice, handset in Garamond types and printed at Moving Parts Press.